Stone Real Estate Macarthur's director, Chris Philp, said there was blanket desperation among renters in the region.
"We're at the point where we no longer need to advertise rental properties," Mr Philp said. "I'd say about 70 per cent of our properties in the last three months are being leased off market."
With almost a dozen applications on each property, he said he has enough prospective tenants leftover for future rentals. As a result, many local renters were either pushed out of Sydney or compromising on the rental property.
"We've even got people who are now considering different suburbs they haven't considered, they're considering three-bedroom properties when they need four bedrooms.
"It's making locals either bunker down with family, or they're moving further south again, considering Tahmoor or Wilton, because they're forced to look at those. It's a halfway between Sydney and Wollongong, but it is a developing area."
Renters were also routinely offering above market rents and up to 12 months worth of rent in advance to secure a property, he said.
It is a similar story on the Central Coast, where the regions of Gosford and Wyong were the next tightest markets in Sydney, with just 0.4 per cent of rental properties vacant in both regions.
Ray White Bensville and Empire Bay's rental principal Carley Eder said while more rental properties were added to the market, there was still very strong demand.
"As much as we had the 12 [rental properties added] in January, eight of them were leased after that first Saturday," Ms Eder said.
"We've been in this market long enough, [renters] know what to do to get the applications at the top of the pile," she said.
In one instance, a four-bedroom house in Wamberal which needed new carpets and new paint, had an asking rent of $850 a week but prospective renters were offering up to $950 a week and someone offered 12 months rent in advance.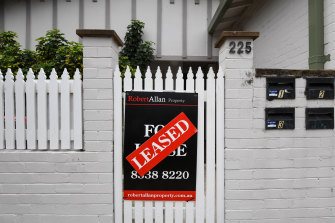 Ms Eder said they now had to manage landlord expectations and were placing rent guides on properties.
Senior research fellow at UNSW's City Futures Research Centre, Chris Martin, said it was not enough to call it a "crisis" anymore.
"It's been happening for so long and getting worse for low-income people in private rentals," Dr Martin said. "It is a chronic failure of the private rental sector."
I have suggested caps on rent increases in tight rental markets to protect renters from being priced out, rather than waiting for rental properties to be added to the market.
"That causes distress and hardship for an extended period while people wait for supply. We should be looking at the regulation of rent.
"It's pretty straightforward, if the rent is going up by more than two per cent for a certain number of quarters, it gets capped."
The vacancy rate was only telling part of the story for renters, who have struggled with less choice and compromising on quality over the years, according to Leo Patterson-Ross, chief executive of the Tenants' Union of NSW.
"It is true to say we have been in a crisis for many, many years, and we are sinking deeper into it because we're not taking the goals of housing the community of NSW seriously," he said.
"People are often pushed into making pretty deep compromises. That hides what's happening, so it hides people experiencing the worst part.
"[People] are making those compromises on their quality and that really means their safety. It's on pretty fundamental things like thermal comforts, cost of utilities, the cost of disease spreading."