Two years of COVID-19 precautions have put the brakes on many of the Aiken County Historical Society's activities, but the group took a major step toward its traditional Sunday offerings, holding its winter meeting.
The Aiken County Historical Museum, in keeping with tradition, was the host site, and the featured speaker was Steve Silver, representing Aiken's synagogue, the Adath Yeshurun ​​congregation, which has reached the century mark in its history.
"It's good to be back," said Allen Riddick, the society's president, who confirmed his hope for "no more COVID" and expressed thanks for Silver's contribution to Sunday's program.
Silver has been a major contributor in the effort to assemble "A Source of Light," a new exhibit on display for the next couple of months at the museum, with articles, pictures and other memorabilia relating to the lives of local Jewish residents reaching back into the 19th century.
The exhibit was created in connection with the synagogue's 100th anniversary, which was in 2021, but events were largely postponed to early March of 2022, due to pandemic concerns.
"We've had a great weekend," he said, noting that the exhibit had its opening Friday, and a historical marker was unveiled Saturday on Laurens Street, focusing on the role of Jewish merchants in the local economy, particularly in the 20th century .
"More than that, we've had over 100 people who came in, most of them from out of town, to be with us for those two events, as well as a big gala party we had in the museum last night, and Saturday services at the synagogue and the panel discussion this morning, with most of those 100-some people coming from Boston, New York, Virginia, Florida, Georgia and even California – almost all of them descendants of the early Aiken Jewish families who were here, who are now living elsewhere," Silver said.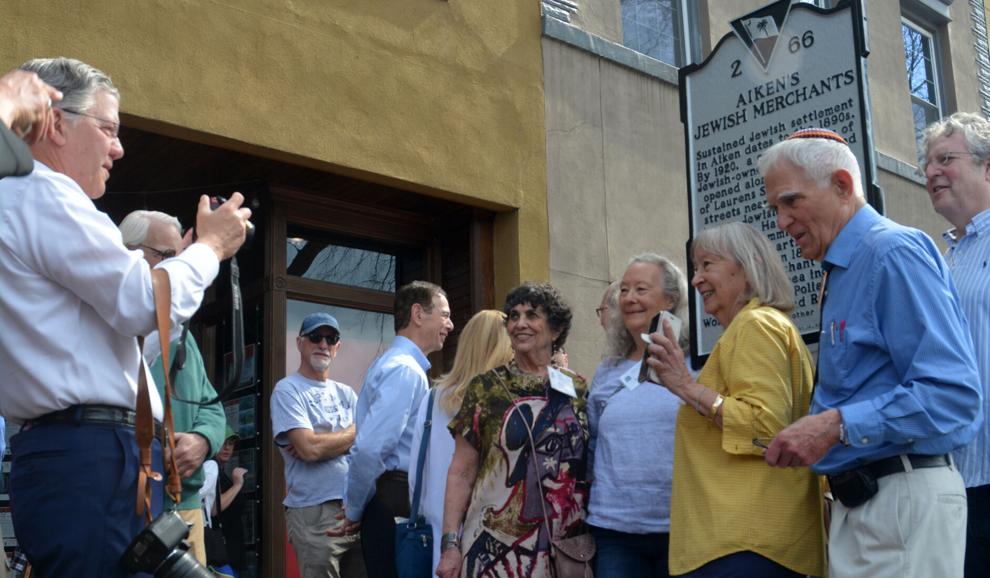 "This project is four years in the making," Silver said, recalling an effort that started at a meeting of the Jewish Historical Society of South Carolina.
His talk explored the contributions of such families as the Wolfs, Rudnicks, Efrons and Poliakoffs, as represented through such establishments as Sam's Supermarket, Wolf Liquor Store, Southhampton Saddlery, Julia's Dress Shop and two movie theaters — the Patricia and the Rosemary.
Silver also fielded questions on a variety of topics such as discrimination, the synagogue's growth, its leadership, along with the roles of individuals, including businessman Mandle Surasky (1898-1986), largely remembered as a two-term Aiken mayor and as the community's "Man of the Year" in 1966.
Laurens Street was particularly important in terms of business, and many of the Jewish families, he said, lived on Pendleton Street, a short walk from the synagogue, which meant that kids in the community had plenty of encouragement to behave themselves, as they had plenty of interested onlookers from day to day.
Sunday's meeting also included input from Riddick on the life of Vermont native Levi P. Morton, the 22nd vice president of the US, as the second in command (1889-93) to Benjamin Harrison. Riddick mentioned having recently found an Aiken newspaper article mentioning that "Levi Morton was setting up a … winter residence in Aiken" – information that Riddick said he hopes to explore further.
He pointed out that Morton also served in the diplomatic corps, as minister to France, and via that role, was selected to place the first rivet to begin construction of the Statue of Liberty, in 1881.
Riddick also noted his fellow members of the historical society's board, including some newcomers, are Coleen Reed, Nancy Wilson, Michael Norton, Coleen Ree, Marty Baily, Bill McGhee, Kathy Widener, Kevin Kerr, Bea Peyser and Gilbert Kennedy.
The meeting also included input from Jackie Bartley, with the Beech Island Historical Society. She promoted the 14th annual Historic Beech Island Tour, set for April 30, from 10 am to 5 pm This year's event, a self-guided driving tour, will include 14 sites with Redcliffe Plantation State Historic Site among the most prominent. Among others are such locales as Silver Bluff Audubon Center and Sanctuary, Hammond Cemetery, Silver Bluff Missionary Baptist Church, Ivy Falls and Zubly Cemetery. Tickets are required.
The society, led by Bartley (one of its founders), dates back to 1985 is based at 144 Old Jackson Highway, in Beech Island. Details are at (706) 833-3651 and beechislandhistoricalsociety.com.
.